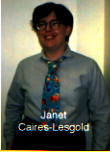 Howdy! Janet here. This is me at work at the Materials Science Department at Northwestern University in Evanston, Illinois. Jake and I got married in May 1995, and are still happily ridiculous (or something like that...). We like art and culture and travel, visiting various cities in the United States as often as we can. Some photographs of our *TRAVELS* can be found here.

My life is science fiction. More or less. I watch the stuff, read it, write it: the works. I go to conventions, primarily in Chicagoland, as often as possible, the biggest of which is WindyCon. One of my favorite aspects of convention-going is wearing all kinds of keen *COSTUMES*, and photographs of some of my favorites are here. I've made a bunch of friends there, and spend time with them outside of conventions, too, such as the group "Galaxy Rangers" who meet at our house every week to watch videos or play games, often from Cheapass Games. We have get-togethers on holidays, or plan outings to museums or movies, too. If you are in Chicagoland and want more info on this kind of event, e-mail me.

I dig shopping and movies and media collecting and toys, but my main amusement is television. I'm a loyal viewer of many shows, and can frequently be found watching Food Network or Cartoon Network. Some of my very favorite shows are House M.D., Boston Legal, The Daily Show, and Mythbusters. However, my obsession these days is with Supernatural and its very pretty boys! As I did with Mulder and Krycek on the X-Files and Clark Kent and Lex Luthor on Smallville, I find myself moved to write naughty fanfic about Sam and Dean Winchester (see pic below)! We have to write their more adult adventures ourselves, since they leave the good stuff offscreen! WARNING! Nobody under 18 please! These stories are FOR ADULTS ONLY!


Banner by The Owlcat
Click here if you are over 18 and want to see them!
If you are under 18, go here instead if you are curious!
More about me can be found on my LiveJournal here! Stop on by and say howdy!
My other favorite things include:
* Stage Act: Penn and Teller
* Band: R.E.M.
* Radio Stations: WXRT * Q101
* Mail Order Catalogue: Archie McPhee
* Book Club: QPBC
* Museum: The Art Institute of Chicago
* Destination: Shedd Aquarium
* Toy: Legos

Thanks for visiting and reading about me. We now return you to your typical flashy webpages. Luv, me